Luigi, 9, and his older brother Luis Fernando, 11, carried a heavy bucket filled with sand from one side of the cemetery to another. They jumped and ran over musty graves overgrown with grass, trying not to fall into the open tombs.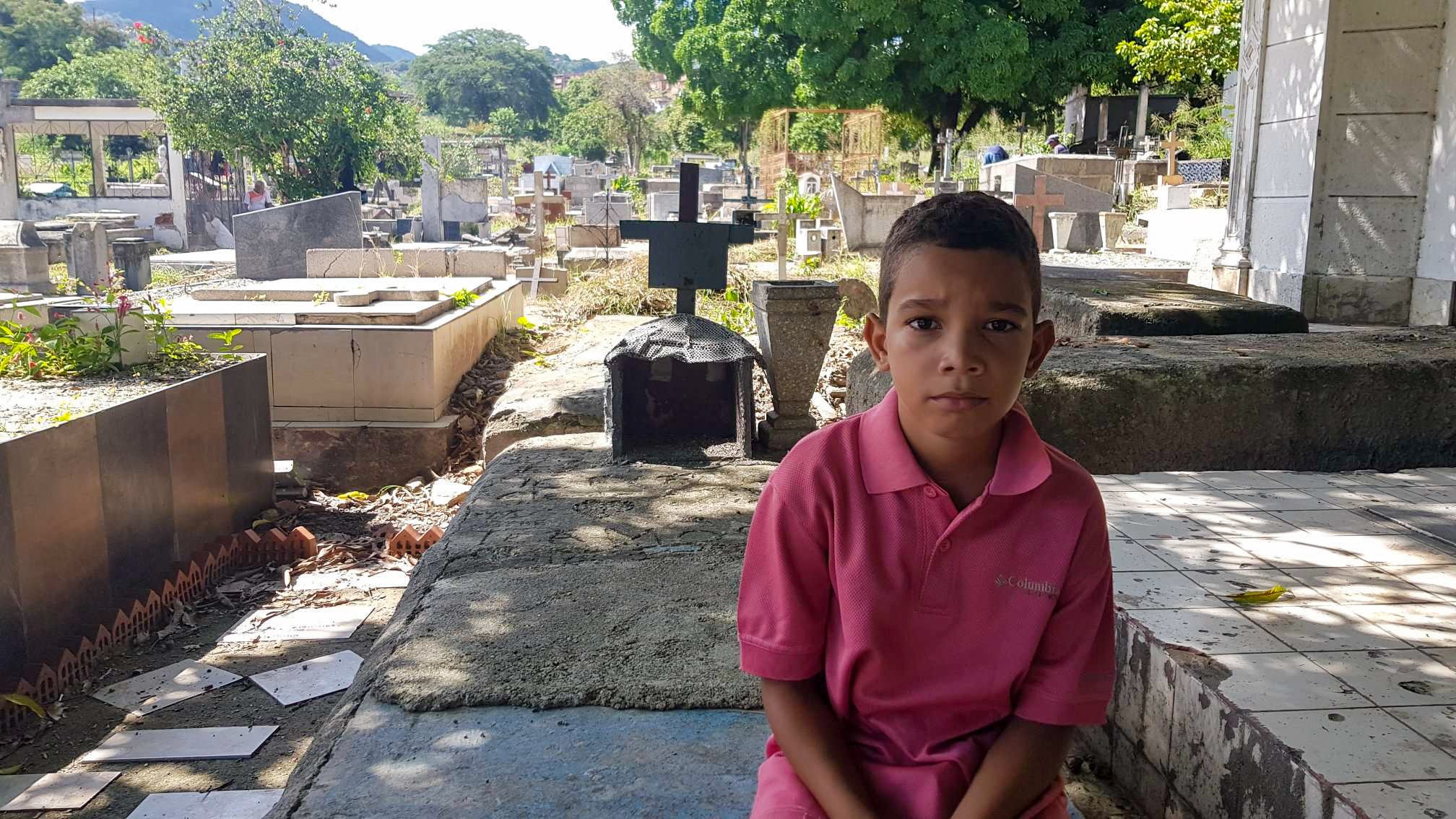 They were not there for fun. They were here for work.
Every weekday Luigi and Luis Fernando march down the hills of Guarenas—a poor community east of Caracas, the capital of Venezuela—to help their father, Dixon Herrera, 39, who has worked his entire life at the local cemetery. He earns the minimum wage of US$2 per month. That is not nearly enough to provide for his children.
The boys and their father are among millions of Venezuelans affected by food and medicine shortages, lack of jobs, and runaway inflation stemming from the political and economic crisis. It has caused the largest displacement ever in the Western Hemisphere—more than 4.9 million people have fled Venezuela to find work, food, health care, education, and a better life in surrounding countries. About 3.2 million children are in dire need of humanitarian assistance, according to the United Nations' Regional Humanitarian Plan (HRP).
On top of the economic crisis, vulnerable children like Luigi and Luis Fernando face the threat of COVID-19. In a matter of one week, confirmed cases have spiked to 70 in Venezuela. In a country where the health system has collapsed, hospitals are ill-equipped to care for even basic needs virus. This pandemic threatens to compound an already dire situation for the brothers, their family, and millions of vulnerable Venezuelans.
Whether or not they are aware of the seriousness of their situation, the boys continue helping their father.
While digging into the dirt to fill another bucket for his dad, Luigi finds a shell. The 'santeros', a syncretic religious practice that combines Catholicism with pagan Yoruba rites, come during the night, open the graves and throw in the shells, trying to 'enslave the dead', he says.
"That is witchcraft, it is devilish, but I am not afraid," says Luigi, who wants to become a priest. "My grandmother told me that I shouldn't be here, that it is not right, but I have to help my dad", he explains.
Luis Fernando, who speaks with maturity beyond his years, says he wants to join the military. I know I can help many people being a soldier," he says.
At their young age, both children have witnessed more funerals and seen far more corpses than most other children. They remember going to school—but that's not an option anymore. Schools are closed due to the COVID-19 outbreak. And even before that, many schools did not operate due to the massive migration of teacher to neighboring countries.
The children know all too well the helpless feeling of going to bed hungry. Food shortage is a common experience for thousands of Venezuelan families amid the economic crisis.
Guarenas, where the boys live, was once a lower-working-class neighborhood. They did not have much, but they had enough to live. Now, the basics are luxuries: A hot meal and tap water are extravagant treats afforded just by a few.
Thanks to World Vision's partnership with a national network of churches devoted to protecting children, Luigi and Luis Fernando and several hundred children get a hearty breakfast and hot lunch every weekday. "We get potatoes, caraotas (beans), milk, fruit and even chicken!" Luigi says.
Pastor Manuel, the head of the local church that runs the feeding center, explained that on average, children recovered 3 kilos (6.6 pounds) during the first four weeks of receiving balanced, nutritious meals at the feeding center. Besides the traditional 'arepas' and cassava they occasionally ate, children are now receiving nutritious meals that include a balanced portion of protein and carbohydrates.
It is key to ensure the health and wellbeing of children. Although COVID-19 symptoms are allegedly mild on children, it is key to keep them safe to protect the vast majority of elder caregivers that are in charge of children.
Unfortunately, Luigi and Luis Fernando will not benefit from the feeding program while Venezuela is in lockdown. The COVID-19 outbreak brought the feeding program to a abrupt close. The national emergency declared by the government, along with strict social-distancing measures does not allow children nor parents to go out and look for food. Millions who depend on daily income by working in the informal sector are facing hunger.
In response to the complications posed by the COVID-19 crisis in Venezuela, World Vision is working to reach children like Luigi and Luis Fernando to help them get through this latest crisis. We aim to assist 625,000 people, or about 120,000 families over three months, through cash vouchers, personal hygiene items and prevention messages, child protection, livelihoods, and food assistance. We are focused on the most vulnerable children and their families in the provinces of Caracas, Miranda, Carabobo, and Anzoategui.